Two for one!
The last two books I finished in December were two of my favorites of the year. Here are my reviews from Goodreads and links to purchase them.
The Rib from Which I Remake the World by Ed Kurtz
My rating: 5 of 5 stars
THE RIB FROM WHICH I REMAKE THE WORLD is one of those special novels in the horror world. For me, that magic is in any story that brings me back to the great Leisure Book Horror days. While Ed Kurtz delivers this horror tale in more of a noir style, the story is pure LB Horror Club.
The protagonist, George "Jojo" Walker, is easily my favorite character in a book this year. The title is also my favorite of the year.
The story takes place during WWII, in a a small Arkansas town. Jojo was a deputy with a beautiful wife and nice life, until he slept with the wrong woman. His world is turned upside down as he finds himself jobless and alone. He takes up a job at the Litchfield Valley Hotel as the hotel cop. He's got a few people left in town who don't look at him like he's a worthless POS- his boss, Charles the bellboy, the woman at the diner, and Georgia. His life isn't perfect, but he's living it until he's not. Smokes, drinks, and does his job, that's pretty much it. Until the circus comes to town…
Barker Davis and his band of actors show up to take over a three-day stint at the local cinema to show a film they call, "Motherhood Too Soon!" With two showings a day, one for females, one for males, the real show is the invite-only midnight showing.
What is the midnight show? There's magic involved…and nobody leaves the same.
By the time Jojo Walker gets involved, meeting with the elusive Mr. Davis, the townsfolk are changing. Jojo gets a dose of his forgotten past that turns his world on its head and sets him into a war at home to save his town and the people that gave up on him.
This is a wonderful horror book that had me thinking back to the great works of Bentley Little, Gord Rollo and even a little of last year's Consumption by Heather Herrman.
I give THE RIB FROM WHICH I REMAKE THE WORLD 5 stars! One of my top favorite 2016 releases.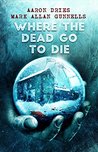 Where the Dead Go to Die by Aaron Dries
My rating: 5 of 5 stars
What an amazing, heartbreaking, and cut-throat story! Authors Aaron Dries and Mark Allan Gunnells, bring us a new type of zombie fiction. Note- outside of The Rising by Brain Keene and Habeas Corpse by Nikki Hopeman, zombies are my least favorite horror trope. It takes something special to make me push through and read zombie fiction. WHERE THE DEAD GO TO DIE is just that kind of book.
"I'll build a bridge from me to you out of corpses"
The story centers around Emily, a woman who lost her husband, and has to try and raise her daughter, Lucette, in a world that has learned to live with the threat of zombies. Emily takes a job at a hospice for zombies. A terrific idea that the authors execute to perfection. When twelve-year-old boy, Robbie, is brought in, Emily connects with him, feeling his pain more than most, being that her daughter is the same age.
Robbie's story is sad as hell on its own. Watching Emily, then Lucette, connect and empathize with him is touching. Dries and Gunnells nail you time and time again with revelations, stirring every emotional pool within you that they can find.
The zombie hospice isn't the most accepted business in town. Groups of protesters gather outside the building day after day demanding that the place be shut down. This brings in anther dimension of realism to the story. You could easily see "Trump-ites" casting hate at people trying to do something positive in a world of monsters.
The ending….damn, the ending is great.
I give WHERE THE DEAD GO TO DIE 5 stars!
Buy now!
BUY THE RIB FROM WHICH I REMAKE THE WORLD